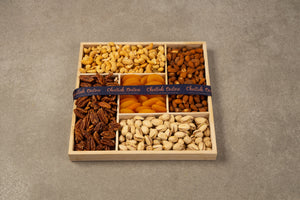 A fresh & healthy assortment of gourmet roasted nuts and dried fruit. Includes a perfect variety of sweet dried fruits and salty roasted nuts. This Kosher Snacks are a great gift for your health conscious friends, family or for any occasion. 
Includes:
Chinese Pecans
Salted Roasted Almonds
Salted Roasted Cashews
Salted Roasted Pistachios
Dried Apricots 
We take great pride in the quality of our fresh foods, so we guarantee every product, every time.
All our products are 100% Kosher.